From the Manly Daily 7/5/08
Wild riding prescription for long life.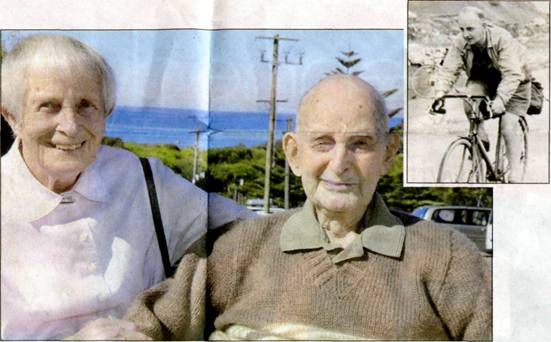 One-time endurance cyclist Stanley Wild and his wife Jo. Mr Wild turns 100 shortly. Inset above shows him crossing the Flexen Pass into the Arlberg, Austria, in 1954.
STANLEY Wild turns 100 on May 28, and if anyone cares to ask him his secrets for attaining such a grand age, don't be surprised if you are told, in the nicest possible way, to "get on your bike".
The practice seems to have worked for Mr Wild. It might be a decade since the English-born endurance cyclist put his bicycle into storage, but by the time he reached 90 he'd clocked up more than 600,000 miles (960,000km) - that's equivalent to 26 times around the world - on his trusty two-wheeler, much of it over rugged mountain terrain in Britain and other parts of Europe.
Mr Wild began cycling in 1924 at the age of 16, exploring every corner of Britain on his bike and making his first foreign tour to Spain in 1932.
"This experience," he later reported, "transformed me into a fantastical continental pass stormer."
He crossed every major pass in Europe, including the Grossglockner Pass in Austria in 1935 and the Col de l'Iseran in France the following year.
For over 20 years he led parties of British cyclists on foreign tours, and although he retired from the job at 65, continued solo foreign tours until he was 70.
His Irish-born wife Jo, while she is proud of her husband's achievements, doesn't share his passion.
They met during wartime, and for their honeymoon he took her on a pass-storming cycle tour of France, the two of them covering over 700 miles (1120km) in three weeks.
"I used to cycle to school and back as a child in Ireland, six miles there and back every day over roads full of stones and potholes, but nothing prepared me for what Stanley put me through," Mrs Wild said. "Honeymoon? I used to call it our funnymoon. It just about finished me off."
The Wilds migrated to Australia in 1978, joining their only child, Clare, and her family on the northern beaches.
Eleven years later, Mr Wild was still cycling and writing regular articles for Britain's Cycling Weekly.
At that time, he was fifth on the list of members of the 300,000 mile club (and the only one living outside Britain), with a total of 562,832 miles (900,531km) to his cycling credit. It didn't take him long to decide that touring in Australia, "with its long distances between stopping places and any road other than a main road just a dirt track", was a young man's game.
So he clocked up the balance of his lifetime total of cycling miles the "easy" way by riding up to 30 "gentle" miles a day, amassing 7143 miles (11,530km) in 1988, and topping the 600,000-mile mark by the time he gave the game away at 90.